NVJ - Our Prototype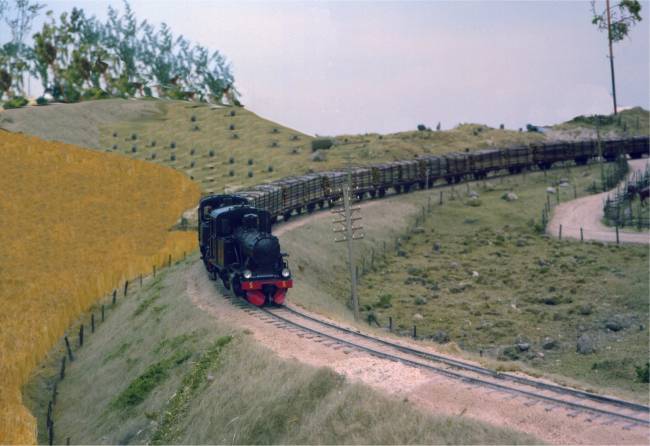 NVJ # 5 and DHJ # 8 doubleheads a heavy timber train up the hill north of Stabby. Photo and © Jörgen Bergfors.
Swedish Narrow Gauge
A fairly high share of railway lines built in Sweden between 1870 and 1920 were narrow gauge lines, mostly with three foot gauge. Read more about
Swedish Narrow Gauge
here.
"Roslagsbanan"
Roslagsbanan started as
Stockholm - Rimbo Järnväg
and later expanded into
Stockholm - Roslagens Järnvägar
(SRJ). It was one of the largest narrow gauge railway networks in Sweden, and was the last swedish narrow gauge railway to be nationalized.
Norrtälje - Väddö Järnväg
The Norrtälje - Väddö Railway, NVJ, between Norrtälje and Elmsta by Väddö channel is the prototype for the layout that Trefoten is building. NVJ was planned but never built. It should have had a gauge of 891 mm like the rest of the narrow gauge empire in the province of Roslagen, and was supposed to be opened in 1910. After a couple of hard years with financial difficulties it was bought by Stockholm - Roslagens Järnvägar, and became a part of the big narrow gauge network administrated by "Roslagsbanan" north of Stockholm.
Plans for a Railway Norrtälje - Broby
Plans for a Railway Norrtälje - Väddö
Norrtälje - Väddö Järnväg Becomes a Reality