NVJ
Norrtälje - Broby
The harbor town of Norrtälje was connected to the railway network through the lines to Uppsala in 1884 (ULJ + LNJ) and to Stockholm in 1885 (SRJ).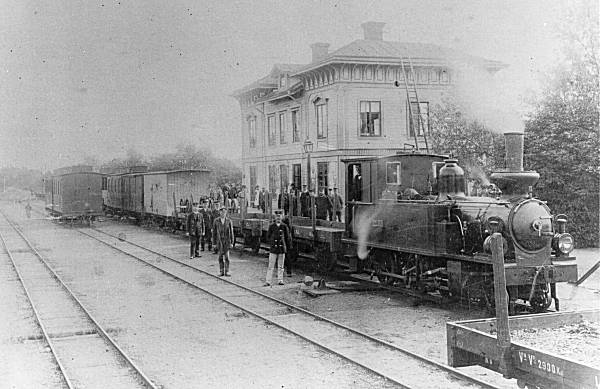 Norrtälje station c:a 1900. Engine #4 of Länna Norrtälje Järnväg with mixed train. From the collection of Stig Nybergs © Stig Nyberg.
About this time the communities north of Norrtälje started to work together to extend the rails in their direction. There were two projects; Rimbo - Skebo and Norrtälje - Broby, the later ideally extended to Väddö. One of the most prominent supporters for the second proposal was the estate owner O.H.W. Åkerberg in Broby. He pointed to the rich and highly populated farmland, the iron ore at Broby and Väddö, possible connections to the ironworks at Skebo Bruk, vast forests etc. to support his case.
In 1890 an application for concession to build a railway between Norrtälje and Broby was made. The cost to to build this 21,9 km long line was estimated to 465 000 swedish crowns. In addition to Norrtälje, two bigger stations were planned; Roslags-Bro and Broby. Smaller stations and halts were planned in Gräfsta, Sebene, Galltorp, Vik and Odinslund. During the planning phase the railway enterprise suddenly lost its driving force when estate owner Åkerberg died.
The attempts to raise funds from the communities along the planned railway finally failed as Estuna and Roslags-Bro only were to be served by the railway in their outskirts and Väddö had to pull out due to financial difficulties. In the Norrtälje town council the fight was hard; 10 voted for and 10 voted against the funding. The chairman finally stopped the support from Norrtälje. The only community to give full support was Söderby-Karl, who decided to fund 40 000 swedish crowns. The plans for a railway Norrtälje - Broby - Väddö did not come true this time.
However, more attempts were to be made...