NVJ
Norrtälje - Väddö
Several different railway projects were discussed in Roslagen until a new application for concession to build a railway from Norrtälje to Väddö was made in 1905. According to the application the gauge should be 0,890 meter!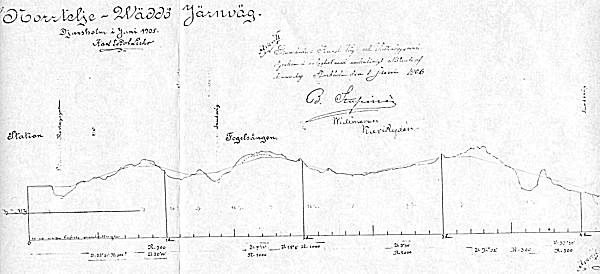 The concession was granted and stipulated that work should be started latest the first of December 1907 and the railway should be completed in 1910.
The narrow gauge railway was planned to leave Norrtälje station in easterly direction, crossing the street "Roslagsgatan" on a viaduct, heading through the area called "Fågelsången" ("The birds song") before it went north towards Gräfsta. It was then to continue north through the west part of Roslags-Bro community and the east part of Estuna before reaching Söderby-Karl. Further north it would pass east of Broby on its way through Stabby and Husinge up to Elmsta, were the end terminal "Väddö" would be placed just south of the road were it crosses over Väddö channel to the island of Väddö.

The railway was planned to be 28,5 km long and the cost of building it would have been around one million crowns including rolling stock.
The planned stations: Gräfsta, Roslags-Bro (about 1,5 km west of the church), Galltorp, Åby, Stabby, Husinge and Väddö. One flag stop was planned in Kallösa.
Except houses at the above mentioned stations, there was plans to build a house for the Permanent Way Inspector and four cottages for the length men. Two bridges were planned; one 6 meter long on 2,5 meter high abutments at the crossing of the creek "Stenstaån", south of Söderby-Karl, and one 18 meter long viaduct over the street "Roslagsgatan" in Norrtälje. One underpass at "1 km + 395" ( the passage under the road to Roslags-Bro northeast of Norrtälje).
A one stall engine house with turntable should be placed at Väddö, while the existing engine house in Norrtälje were to be added with two stalls.
The concession required a minimum rolling stock as follows:

| | |
| --- | --- |
| 2 pcs. | Locomotives |
| 2 pcs. | 2:nd and 3:rd class passenger boogie coaches |
| 2 pcs. | 3:rd class passenger coaches (4 wheeled) |
| 3 pcs. | 7 tons covered goods cars |
| 25 pcs. | Open goods cars (Types I, U and NN) |