NVJ
Norrtälje - Väddö Järnväg Becomes a Reality
As You already might have guessed, there never was a railway built in this part of Roslagen, at least not in real life, were the funding yet again proved to be the stumbling block. But lets imagine what could have been of NVJ, if only....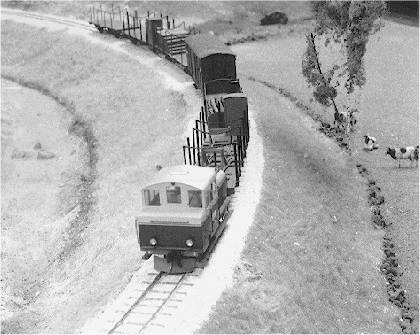 Let us take a look at NVJ a few years after the end of world war II. NVJ was built even if the financial difficulties were large and the communities along the line had to make big sacrifices to secure the railway project. There was even some industrial tracks built to serve the iron ore mines at Broby and the big lumber mill at Ortala Bruk. However, the railway opponents were soon right in their disbelief in the little railway, as it was very close to bankruptcy already in 1914, only four years after its opening. To save the railway discussions were made with Stockholm – Roslagens Järnvägar, SRJ, about a takeover.

NVJ diesel locomotive # 3 heading a goods train on the line between Stabby and Elmsta. Photo and © Jörgen Bergfors.

With the outbreak of WW I the demand for iron and lumber increased rapidly, so the mines at Broby and Väddö and Ortala Bruk supported the railway and kept it alive. But soon after the war ended the problems overturned the company and SRJ came onto the scene again and bought NVJ in 1919 for the symbolic price of one swedish crown. SRJ continued to run NVJ as an independent industrial railway as a means of keeping the salary costs at a low level.
The rolling stock continued to be marked NVJ even after the SRJ take over. However, nowadays You may frequently spot both locomotives, coaches and cars from SRJ on the line between Norrtälje and Elmsta. Occasionally You may even se rolling stock from Dannemora-Hargs Järnväg, DHJ, also owned by SRJ.
Even if the line from Rimbo to Norrtälje now have been converted to electric operation, there are no such plans for NVJ.
Most of the passenger service is now carried out with modern diesel motorcars, while You still can see steam engines pull the goods trains. But even here the new age is coming in the form of small but strong diesel locomotives (Z4p) - well liked by the engine drivers due to their comfortable and well isolated cabs.
Elmsta is also the base for a vast network of bus lines operated by Stockholms Läns Omnibussaktiebolag (SLO), a sister company under SRJ. Buses are leaving Elmsta for Hallstavik, Grisslehamn and the popular "Barnens Ö" / "Children's Island" at Väddö.
From Elmsta You may continue Your journey with the SLO busses to Väddö or the north part of Roslagen. Here is the buss garage run by Stockholms Läns Omnibussaktiebolag, situated close to the railway station in Elmsta. Photo and © Jörgen Bergfors.