Roslagsbanan Today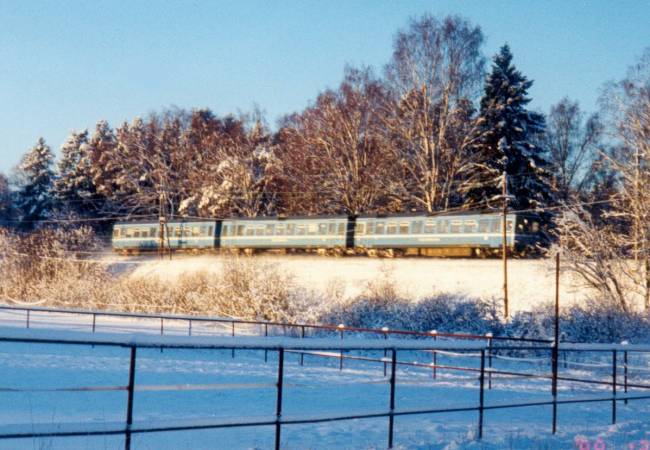 The normal three unit consist heading east towards Österskär on the line between Täljö and Åkers Runö on a sunny winter day 2000. Photo and © Per Nilsson.
Remaining Lines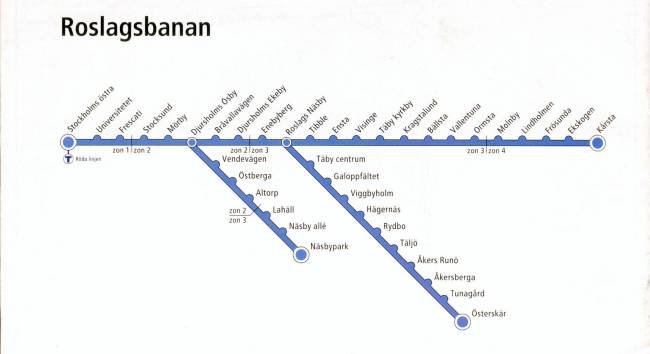 | | |
| --- | --- |
| Stockholm Östra - Kårsta (the original mainline to Rimbo) | 41,8 km |
| Roslags Näsby - Österskär | 18,4 km |
| Djursholms Ösby - Näsby Park | 5,1 km |
Heavy Commuter Traffic
Since January 2003
Roslagståg AB
(a joint venture between Svenska Tågkompaniet AB and the Danish State Railways, DSB) is operating Roslagsbanan, the RB branch of Stockholms Läns Järnvägar, SLJ, on behalf of Stockholm Transport (Storstockholms Länstrafik),
SL
.
The trains operate from about 5 a.m. until about 1 a.m.. During the peak hours in the morning 13 trains arrives at Stockholm Östra every hour and during the rush hour in the afternoon 14 trains leaves Stockholm Östra every hour. At these hours the escalators between the underground station Tekniska Högskolan and the platforms of Stockholm Östra are quite crowded.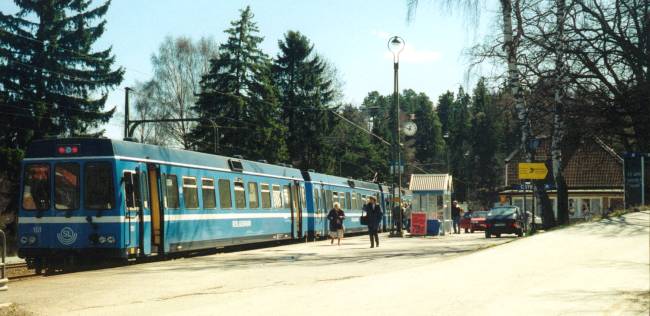 Roslagsbanan is quite unique in the sense that it still keeps its guards (conductors) on the trains. The only other part of the SL traffic system that has any guards left is Saltsjöbanan.
More than 30 000 trips are made every weekday on the 65,3 km that is left of the former SRJ.
A typical three car consist at the most eastern terminal, Österskär. Photo and © Per Nilsson.
Rolling Stock
The normal consists are made up by three units, one EMU X10p, one passenger car UBp and one "control"-car UBxp from which the EMU can be controlled when going in the opposite direction. During the rush hours two such consists make up a 6 car train.
Unit
Numbers
Seating
Notes
X10p
201 - 235
72
EMU, Bo´Bo, 4 x 100 = 400 kW asynchronous motors
Max. speed 80 km/h, built 1990 - 1995
UBxp
121 - 154
76
Equipped with drivers cabin in one end, built 1990 - 1995
UBp
801 - 832
80
806 - 825 built as passenger cars 1988 - 1990, rebuilt to
"middle units" 1991 - 1994, 801- 805 built 1990 - 1991,
826 - 832 built 1994
In addition there are three older Z4p and one Z6p diesel locomotives for shunting and maintenance of way service. One older electric motor car and one diesel motor car has survived as "help trains".
The trains are serviced at the terminal at Stockholm Östra and repairs and other maintenance are made at the shops in Mörby.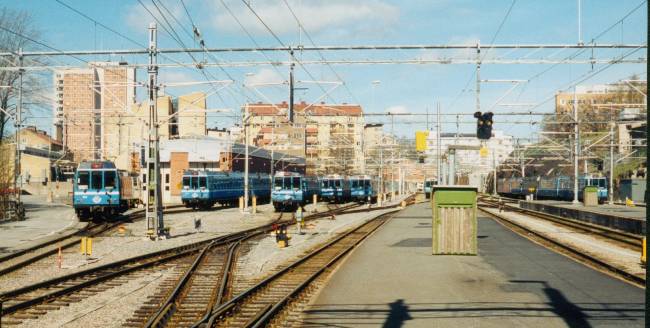 Stockholm Östra is a very busy terminal with 6 platform tracks and service tracks for the trains when they are not in service. Photo and © Per Nilsson.